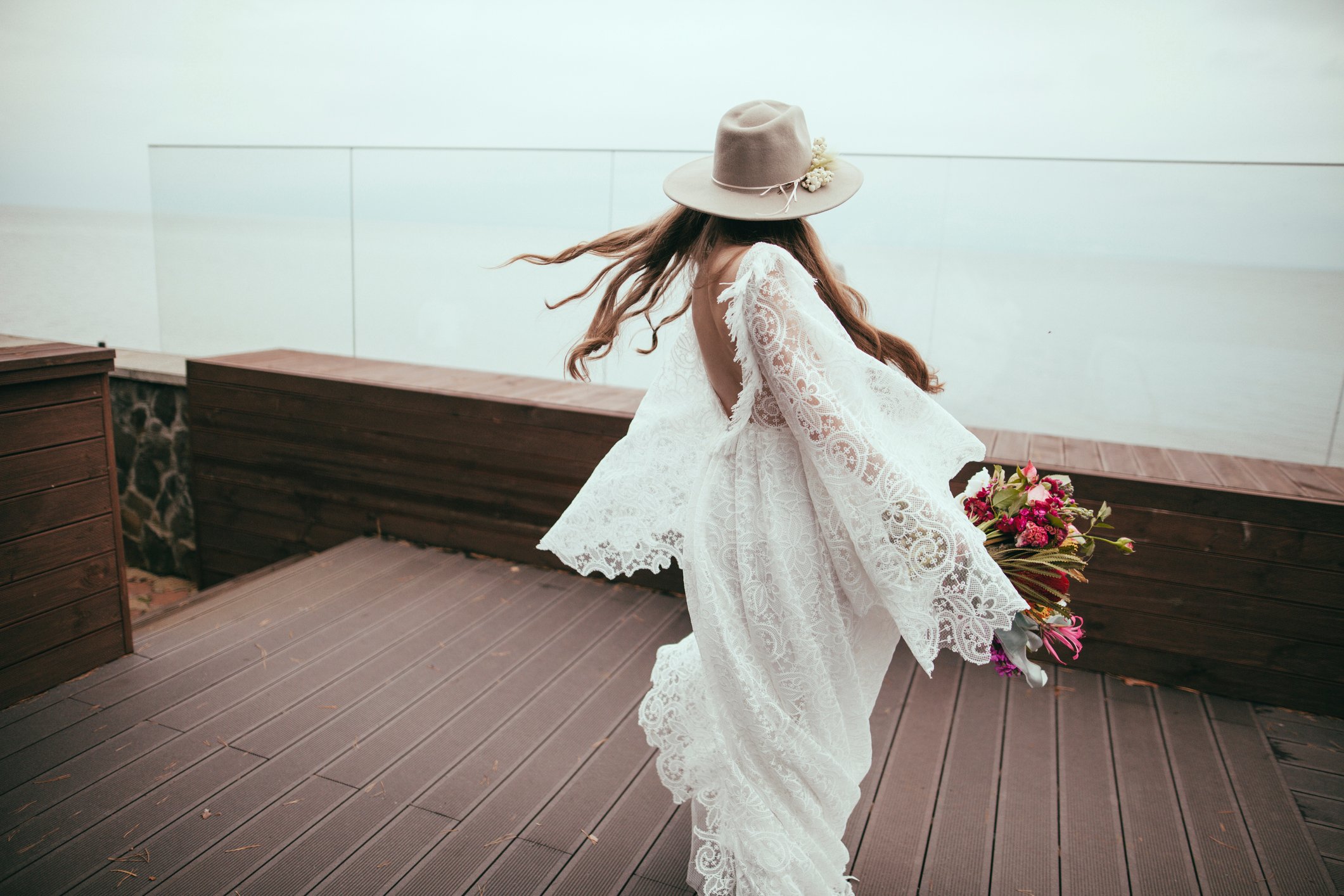 Many women have a very early idea of ​​what their wedding dress should look like. However, when it comes to the registry office instead of a church or free wedding, desperation often arises. Let yourself be inspired: We will show you the most beautiful wedding dresses for the registry office!
While many brides would like to wear an eye-catching or at least special wedding dress at the festivities, most of them prefer a cautious wardrobe for the obligatory signature. But that need not be! Especially if you decide to – or are forced by the corona pandemic – to forego a big party and "only" trust yourself in a civil ceremony, you can shine in a chic outfit at the authorities. Whether simple, extravagant or completely different – we'll show you the most beautiful models for 2021.
# 1 Simple wedding dresses
Plain dresses in white are probably the standard variant for the registry office. But standard doesn't have to be boring. With tight-fitting fabrics, elegant cuts or restrained embroidery and applications, even simple wedding dresses can make for a wow appearance.
With these models in particular, you can upgrade your wedding look perfectly with chic accessories and great shoes, such as fancy heels. While long wedding dresses are almost exclusively worn in churches, in this case you can of course also choose a short wedding dress.
This dress has a simple cut, but convinces with the filigree flower embroidery:
https://atlas.stroeermediabrands.de/admin/widgets/01EZ9KMJWGKQJ5M4YR7B8SNYMF
# 2 eye catcher wedding dresses
Of course, you can also dress up properly in front of the registry office – after all, it's your big day! How about, for example, a dress with a tuxedo cut or a fine fabric like satin?
Even transparent parts can bring out your advantages particularly well, especially in summer temperatures. Another trend are wedding dresses in vintage style or with intricate lace.
This satin wedding dress is available from Asos for around 120 euros:
https://atlas.stroeermediabrands.de/admin/widgets/01EZ9HGVPS32574H335EXG8AHK
# 3 pastel lace wedding dresses
Pastel is all the rage in 2021. So what speaks against a wedding dress in trendy tones? Right, nothing! Instead of a white, cream or champagne tone, you can also go for the signature in a light blue, pink or green.
Lace is usually the favorite here when it comes to the fabric, as it gives the dress a romantic touch again. It is particularly practical with registry office dresses in pastel that you can put them on again on other occasions and they do not have to gather dust in the closet.
This beautiful model is available from Asos for around 60 euros:
https://atlas.stroeermediabrands.de/admin/widgets/01EZ9KQWXARR1ZRYE9SJBP35M7
# 4 wedding jumpsuits
Are you not the type of dress or do you want to try something completely new? Then a wedding jumpsuit is absolutely right for you! Just like wedding dresses, the one-pieces come in different styles. Regardless of whether they are cool, romantic or chic – they all have one thing in common: They emphasize that you are wearing your pants! Another plus: a wedding jumpsuit visually stretches your silhouette and even smaller women make their big entrance.
Asos has this cool wedding jumpsuit for around 190 euros:
https://atlas.stroeermediabrands.de/admin/widgets/01EZ9NRVHBSKY6Q4S46ZWWKAR3
Didn't find the right one for you among the selected clothes? No problem, there are many other models that convince with great lace, deep back necklines or classic elegance …
With these inspirations, it shouldn't be difficult for you to choose a dress or jumpsuit for a civil wedding. What do you prefer, classic dresses or do you tend to go for a one-piece? Let us know in the comments.