Hunkemöller and NA-KD bring out a joint collection that combines elegant lingerie with sporty functional clothing. Sporty and sexy doesn't work? The pieces of this cooperation prove you the absolute opposite. We'll show you the most beautiful looks of the limited underwear collection and tell you where and from when you can buy them. Are you ready for seductive styles?
When lingerie meets functional clothing
What do you get when a Dutch underwear label and a Swedish fashion brand unite for a common collection? Exactly, super stylish looks! Hunkemöller and NA-KD have teamed up and the result of this cooperation is impressive! A Collection of 51 beautiful pieces, consisting of underwire sports bras, underwire bras, bralettes and camisoles, as well as high-waist shorts, briefs and leggings. The styles are made from a combination of knitwear and single jersey, with which they adapt not only to your movements, but above all to your new lifestyle: home office, online meetings, digital evenings with wine and friends or the daily walk. This unique collection is perfect for all moments.
Our favorites from the Hunkemöller x NA-KD collection
Fishnet tights & body with logo print
Special highlight and Tights and bodysuits are absolute favoritesthat are not only printed with lace details, but also with the NA-KD logo. Logo mania has never been so sexy.
Tights from the HKM x NA-KD collection, available in black and white for 20.99 at Hunkemmöller or for 28.95 euros at NA-KD: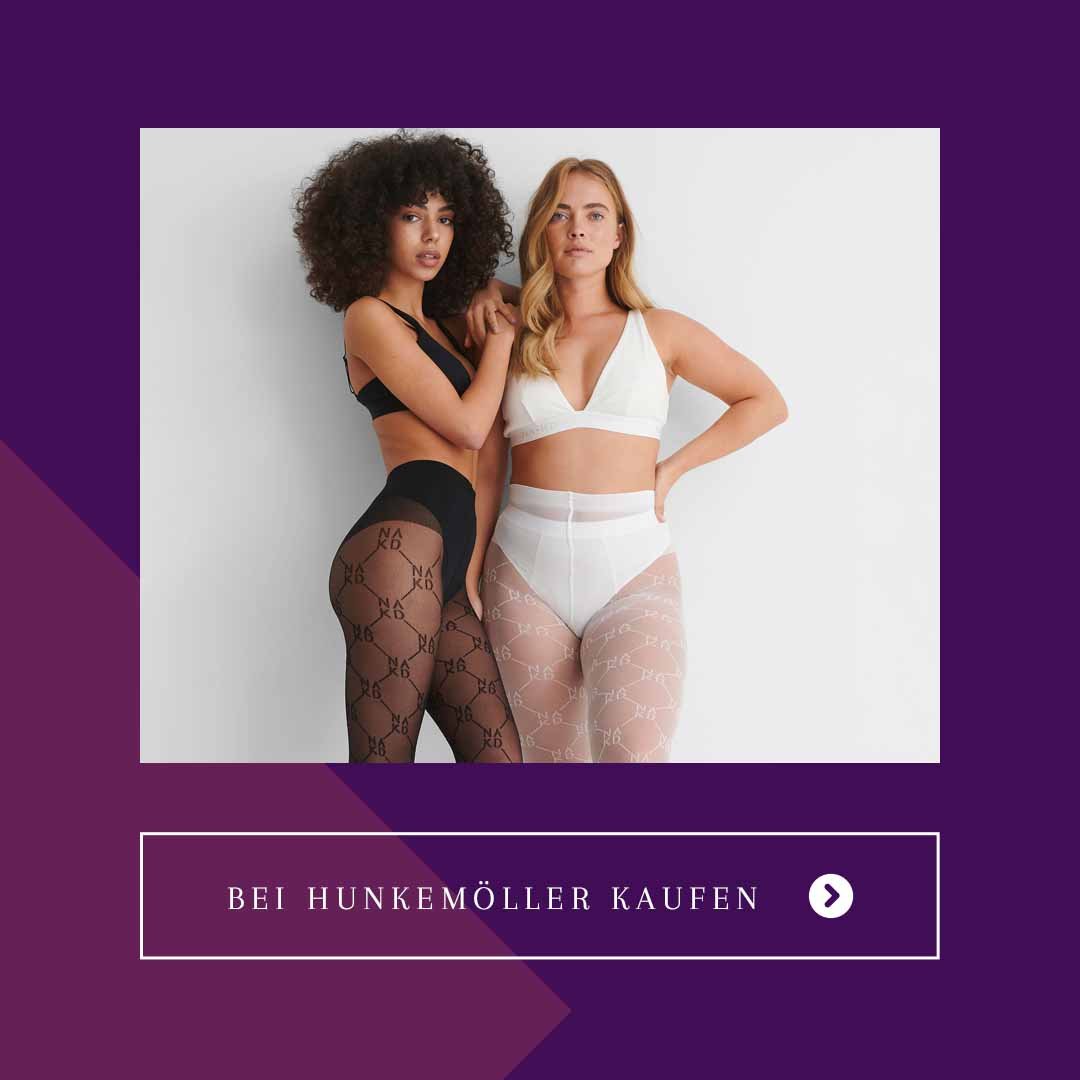 Subtle in black or a little more conspicuous in bright white, these collection items are an absolute must-have for every fashionista and can not only be worn at home, but also incorporated into casual outfits and unusual street styles.
Body Xenia, available in black and white for 35.99 euros at Hunkemöller:
High leg string Casia
It goes perfectly with tights with a logo print: the high leg string Casia. The string is made of fine woven material and has an elastic waistband for the perfect fit. Due to its special cut, it has a high-waisted fit, which gives you a beautiful silhouette.
High Leg String Casia, available in black and white for 16.99 euros at Hunkemöller and for 23.95 at NA-KD:
Bralette Casia
The underwear collection provides you with a sexy, sporty bralette to match your new high leg thong. Also made from ribbed fabric, it has a beautiful V-neck and adjustable straps, a back closure and is not preformed. A special highlight is the logo on the cuff.
Bralette Casia HKM x NA-KD collection available in white and black for 24.99 euros at Hunkemöller and for 32.95 euros at NA-KD:
Underwear and functional sportswear cannot be combined with everyday clothing? Oh but! You can integrate the pieces from this collection perfectly into your daily styling. From home office looks and casual outfits for an afternoon with friends to eye-catching stylings that are guaranteed to attract everyone's attention. Absolutely elegant and yet a little sporty! This video shows you how easy it is to style the loungewear collection from Hunkemöller and NA-KD:
As if the looks weren't already grand enough, Hunkemöller and NA-KD are even making a contribution to sustainability with this collection: All pieces in the joint collection are made from cotton from the Better Cotton Initiative. The seal of approval for fair and sustainable fashion has, next to that protection of the environment, the goal, the worldwide Improve cotton production for producers.
The entire loungewear collection from Hunkemöller and NA-KD has been available online at both Hunkemöller and NA-KD since January 20th. The collection is limited, however, so you should grab it quickly!
Soon it will be that time again and Valentine's Day is just around the corner. Of course, what shouldn't be missing? Right, exciting underwear for a good time for two …