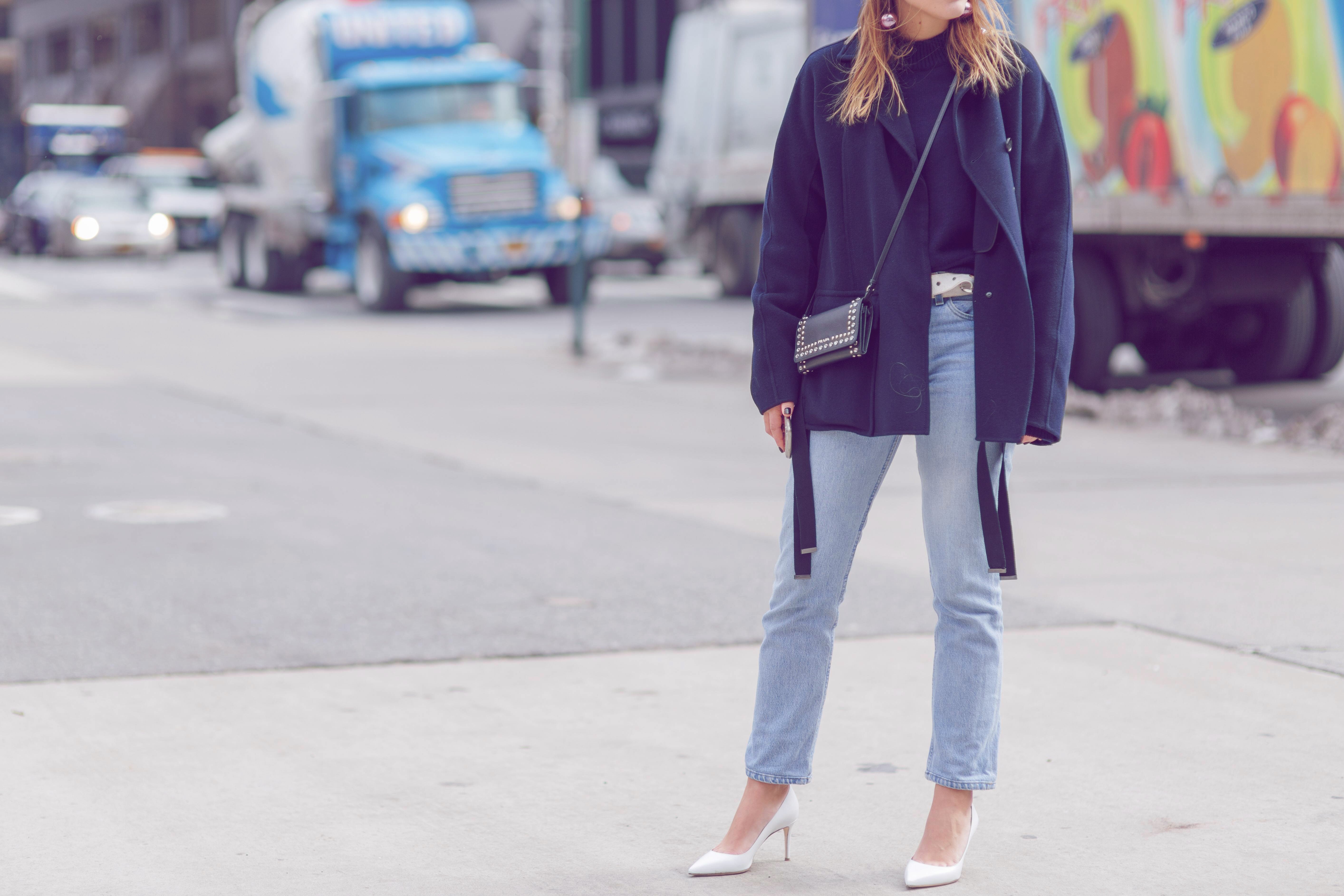 Forget boyfriend jeans, because from now on everyone will wear these pants: girlfriend jeans. But what is the difference to other fits and how do you best combine them? We'll tell you what makes the girlfriend jeans an absolute favorite, who they look for and how you can combine them with ease and super-stylish!
For a long time, loosely fitting boyfriend jeans were considered the ultimate denim trend for every outfit, but this one has faced stiff competition: the girlfriend jeans. A jeans fit that not only emphasizes the feminine silhouette, but also has the potential to become your new favorite trousers in terms of styling. But what actually characterizes this type of pants?
What is a girlfriend jeans?
Girlfriend jeans have a normal waist height with a looser fit at the hips, a narrower cut at the bottom, run with a narrow, straight leg to the ankle and this fit creates a perfect mix of skinny jeans and trendy boyfriend jeans.
The difference to boyfriend jeans and mom jeans
Girlfriend, boyfriend and maybe also mom jeans? You can quickly lose track of things and wonder what the difference between the different fits is. We'll tell you what boyfriend and mom jeans mean.
The boyfriend jeans
This fit takes its name from its actual wearer: your boyfriend. Looser and wider on the bottom and hips than classic jeans, often a little too long, cut with a low waist and a lower crotch, these jeans look like you've stolen them from your friend's closet. Holes in the denim material not only support the boyfriend look, but also provide an additional used look. How can you combine your boyfriend jeans? We'll tell you here:
The mom jeans
Due to their fit, these jeans are not reminiscent of your friend's favorite trousers, but rather the jeans that your mother wore in the 80s and 90s: Jeans with a high waist, a wide leg that tapers downwards and mostly on ends at the ankles – also known as carrot jeans at the time! These jeans can not only cheat away light stomach lines, but also visually lengthen your legs with a high-waisted waistband and ankle length. We'll tell you how you can best combine your mom jeans:
Who are girlfriend jeans for?
This fit is just right for every woman and is a real flatterer. With its loose fit on the hips and bottom, it makes these areas appear slimmer – especially with black girlfriend jeans models. In contrast to the boyfriend jeans with their slightly wider legs, the girlfriend jeans with their narrower legs are also especially suitable for smaller women. If your jeans are not ankle-length anyway, roll up the trouser legs a little, so you can focus on your narrow ankles and optically lengthen your legs not only with girlfriend jeans, but every imaginable pair of trousers.
How to combine the girlfriend jeans
Like almost every pair of jeans, this fit can be combined with almost anything. For a casual look you can combine a simple T-shirt or a hoodie and sneakers with your girlfriend jeans. If you want it a little more chic, but still casual, combine knitwear with high heels and selected accessories such as delicate gold chains and earrings.
Do you like something more exciting? Then you should go for a layering look that every fashionista swears by. Combine a ribbed shirt with a light turtleneck with an open shirt and wear a boxy blazer with dropped shoulders over it. This outfit is particularly stylish when you wear a leather blazer. Add a pair of boots or strappy sandals and you have an absolute eye-catcher styling that suits every occasion.
Here you can shop your new girlfriend jeans at H&M and Co.: