Regardless of which fashion was trendy, Leo patterns have always played a role in the last few decades. Animal print is also currently very popular thanks to trends such as faux fur or 80s retro styles. But how do you actually style leo patterns? We'll show you the most important dos and don'ts to keep in mind with this iconic look.
Leo pattern is an absolute fashion favorite because, despite its conspicuousness, it can be combined quite well. Classically, this animal print is in Black, brown and beige held – muted colors that harmonize well with many other nuances. In general, you can't go wrong with colors that can be found in the pattern. One of the most popular looks is a completely black outfit with a leopard print garment or accessory. Classic pieces like a beige trench coat and leather accessories in trendy cognac work just as well, as fashion blogger Leonie Hanne proves:
For classically elegant looks that are suitable for everyday use as well as for the office, other shades that cannot be found in the pattern are also suitable. In particular, warm nuances harmonize, like Rust red, merlot or olive green. For example, we love this look by Caro Daur, which combines two statement pieces: a long-sleeved dress in a leopard print with ankle boots in the trendy color Oxblood:
You fell in love with the look like us? Here you can find matching pieces for your Leo outfits:
When styling items of clothing with a leopard pattern, you shouldn't just focus on the colors. Certain fabrics and materials also go perfectly with it and each create its own look. The animal print can look very elegant and feminine together with dark red tones or beige, as in the examples above, but very rocky together with black leather. The station wagon with, for example, is an absolute classic Leather jacket, black tights and Doc Martens – or cheap Doc Martens alternatives.
If you want to style yourself particularly rocky, you can combine black leather or artificial leather with colored leo prints yourself. In the punk and emo scene, for example, is the Combination of a bright red leopard pattern on tights with otherwise completely black outfits popular.
Sounds too unusual? Fortunately, one of our other favorites also goes well with animal prints: Off blue denim and Leo pattern creates a particularly casual look, such as influencer Linda Tol:
Leo pattern is one of the timeless looks that can be worn by all age groups, but you can quickly overdo it. Striking street styles or 80s looks are sure to go well with them Neon colors and other bright colors but these are too conspicuous for serious outfits. Small rule of thumb: in most cases it should a piece of clothing or accessory with a leopard pattern can be the most eye-catching part of your outfit. In addition to very bright colors, the combination of several Leo prints is difficult and can quickly remind you of Carole Baskin from "Tiger King":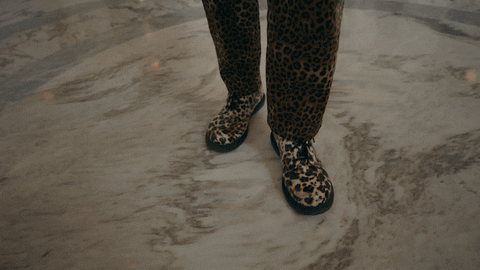 But there are also exceptions to all rules. Those who like to wear eye-catching outfits can do that themselves Combination of several Leo parts dare. For this look to work, it is advisable to also wear a few items of clothing in muted colors – such as a light brown teddy coat and shoes in a similar tone:
Are you unsure whether you can also wear unusual styles? Our test tells you which looks best suit your personality: